Formerly known as Blackbrook Place, the Georgian residence was built circa 1782. John Barton was the original owner of the Blackbrook Estate which stretched on either side of The Avenue as far as Gudge Heath Lane and its tollgate. Built with Beaulieu Brick, the interior originally included a magnificent library, marble mantelpiece, plus twenty bedrooms. There were lots of Bartons in the Fareham area at the time - they also lived in Cams Hall.
In the early 1800s Sir William Biddulph Parker, formerly of Staffordshire, and his wife Lady Parker lived at Blackbrook, he and his wife were known for having many garden parties, and charity fetes. At Christmas the local choir would come to sing carols and were given pies and drinks.
William remarried in 1887 after his first wife died. The family are remembered for giving generously to the poorer families who lived in the estates near the railway station during the First World War.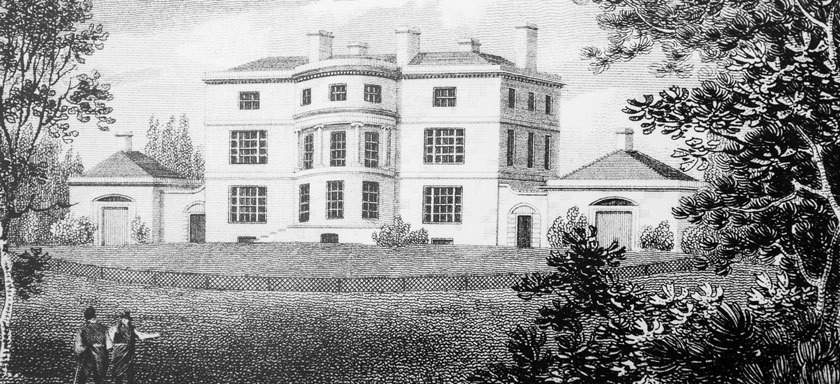 William Biddulph Parker's Granddaughter Recalls
"Originally there was a little pavilion at each end of the house in 1806, before the 'hideous, but necessary' premises were added on in 1890. I can remember my brother John being born in April 1924, and the general flurry from which I was totally excluded. I imagine we were all born in my mother's room. We children lived on the top floor which had the nursery, five bedrooms and a box room. There was no bathroom or loo and probably no hot water. But there really was a lot to be said for a hip bath in front the nursery fire, with one's towel warming on the fireguard - as long as one wasn't the person who had to bring up the water!
The garden was lovely, there was a kitchen garden with box hedges, flowers and espalier apple trees, as well as vegetables and fruit trees on the walls. On the far side of the kitchen garden was a lovely orchard which in spring was carpeted with blue anemones. It was known as the Belmont Garden. Perhaps the anemones' came from Belmont Castle in Sutherland. There were also two grass tennis courts on the south side and a high and very prickly cactus bush with a large area of lawn. We had trees planted for us when we were born, and mine was a pink horse chestnut. I used to love the veranda.
Our gardener was called Henderson; generally considered rather dour, but he had a soft spot for me. We had a little Shetland pony called Brunea, and a well loved coachman, yet deplorable driver called Fox. Our cook was Emily Taylor. My last memory of Blackbrook was very poignant; I peeked into the kitchen garden which was scrubby grass all over with one straggling espalier tree, trying to survive in the middle of the desolation. I seem to remember there were no takers for Blackbrook, and my Father had to sell it for development."
1928 – For Sale £14,000 with 97 acres
The estate agent details listed the house as having: a drawing room, library, study, butlers pantry, still room, larder, scullery, housekeepers room on the ground floor. Six principal bed and dressing rooms, and a bathroom on the first floor. Five bedrooms on the back landing, and a further five bedrooms, nursery and box room on the second floor. Beneath the house were two wine vaults, a dairy and four other rooms. The house had electric lights, a lodge, two garages - one of which was a photographic dark room - and a fruit room, along with stabling. The estate also included 3 cottages and a farm building.
1950 to 2006 – Maternity Home
Fortunately, on April 1st 1950 the house was taken over as a Maternity Home. It started with 20 beds and the first baby to be born was Roger, son of Dorothy Pumphrey, on 9th April 1950. In those days the coal fired central heating had to be stoked by nursing staff at night. The staff lived on the first floor. Miss Tapp was the matron, and she had 2 or 3 sisters to help her and a staff of midwives used to live on the premises. The home was also part of the training school for midwives.
In 2001, Blackbrook Maternity Home was still going strong. In 2000 a 50th anniversary party was held in the garden, the celebrations were opened by Roger Pumphrey, who brought along the silver cup his Mother was given for being the first baby born at Blackbrook. Just two months later, Blackbrook was closed for 10 months due to financial shortages, and re-opened in June 2001, only to close for the last time in 2006. The majority of women who stayed at Blackbrook House felt it was a wonderful haven for those early days with a new baby.
Notes taken from Miranda Line midwife 1991 - 2006 who researched archives in Fareham Library, Westbury Manor Museum, Fareham's Planning Dept.
Now Owned by Stephen Press RGN DIPRSA
Steve is the driving force behind the creation of Blackbrook House Residential Care Home and he has a caring history that started in 1984. Back then, Steve's mother opened the Avenue Care Home (also in Fareham) and he used to help out with the tea and the ironing!
In 1987 he went to train at Queen Alexandra School of Nursing in nearby Portsmouth. As fate would have it he actually spent 8 weeks at that time doing his RGN training at Blackbrook House due to it being a well known NHS Maternity Unit. Many local people were born or know someone who was delivered at Blackbrook House and to help people remember those days with photos and stories, Steve has created "Blackbrook Babies" a separate website.
After gaining his RGN qualifications, Steve worked for the NHS for a short time before moving into full-time care home management. He has owned and managed care homes for the past 20 years including the Avenue Care Home in Fareham.
Steve has a real passion and indepth knowledge of the care of elderly folk and continues to aim to improve the quality of life for older people. Blackbrook House has taken several years to come to fruition and this amazing care home is primarily down to Steve's commitment to elderly people and investment in care.